Willkommen Y'all!
to the "Prost Y'all!" web Stube!
Wishing you a blessed Advent Season!  
Das Ist Lustig's upcoming shows: 
All of these shows are open to the public.
Performance Dates in 2023: 


Tomball German Christmas Market, Market and Cherry in Downtown Tomball, TX
Saturday Dec 9; 2pm - 6pm with breaks; The Christmas Tree-o with Eric Miculka on drums
Sunday Dec 10; 12pm - 2:30pm with break; The Christmas Tree-o with Eric Miculka on drums

Momma's At Sengelmann, 531 N Main Street, Schulenburg, TX
Thursday Dec 14; 6:30 - 9pm; Weihnachten, Texas Style!  Christmas, German Style!

The Table At Madeley, 316 Madeley St, Conroe, TX
Friday Dec 22; 7pm - ?  The Duo    Admission $10 - $15  


2024:
The White Horse Tavern, 400 N Main, Burton, TX
Friday Dec 1  POSTPONED TO JAN 12, 2024 ; 6:30pm - 9pm; Dinner and a Christmas Show; Admission $30 (includes Allison's delicious home cooking!)  Call ahead to make a reservation; She goes to the meat market to pick up everything she needs a couple of days before the event.  979-277-5768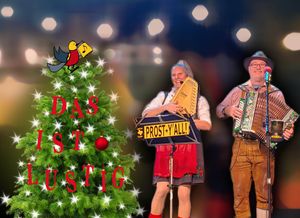 From Du Du, to Du Hast!  Over two centuries of music in the repertoire!  
Let us be the ones to create a lively Biergarten atmosphere for your venue or event.